This page lists second hand machines when they are available.
We are always interested in your old machines.
Lightweight Tracked Post Driver with 300kg variable weight hammer and Rockspike
A lightweight tracked machine to tow behind 4 x 4 or suitable vehicle (subject to weight of trailer and vehicle)
Features include:
compact lightweight design
Rockspike
300 kg variable weight hammer (removable weights from 20kg through to 300kg, only carry what you need)
Chequer plate load bed
Work lights and flashing beacon
Dual steering with joystick controls in cab and on post driver
Brackets ready to take wire unroller and tensioner (unroller and tensioner not included)
Sideshift
Compact transport size
Bracket ready for front stake carrier (carrier not included)
Good tracks and running gear
Good order machine with low hours on post driver since conversion
Been running this machine ourselves since new so know its history
Wire un-roller and tensioner available at extra cost
Machine can be delivered anywhere in the world
Price is £22,500 plus vat (ex our yard)
Mitsubishi LD400 with Model 4 Post driver with 400kg hammer, rockspike and post rotator and front forklift.
A go anyway machine in full working order. Engine starts first time even on the coldest of days.
Features include:
400kg hammer
Rockspike
Post rotator
Full width tool storage lockers on rear bed and toolbox on post driver
Tipping bed with chequer plate floor with removal uprights
Bed large enough to take 2 full packs of posts
Chainsaw holder
Safety camera with screen at back
Work lights
Dual steering with joystick controls in cab and on post driver
Fully glazed and heated cab
Front forklift with in cab controls
Machine can be delivered anyway in the world.
SOLD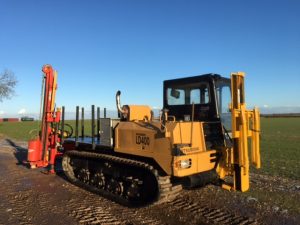 Model 4 Contractor Extreme with 500kg hammer, rockspike and post rotator.
This machine has been one of our own and although 3 years old has worked very little and not even been on a tractor for 2 years and has sat idle, and even when on a tractor was barely used, so this machine is in truly great order and if we said was an ex demo machine, that would not be unfair. But please expect an odd scrape of paint missing as am selling as used condition.
All the usual features you would expect with this machine: Rockspike, towbar, toolbox, chainsaw holder, plus post rotator and a 500kg hammer (not standard 400kg hammer)
SOLD
Model 4 120 Degree Swing with 400kg hammer, Rockspike and Post Rotator
Ex Demo Condition – only done very light demo work, really is like new.
400kg hammer
120 Degree Swing Round
Unused Rockspike
Post Rotator with Cap
SOLD