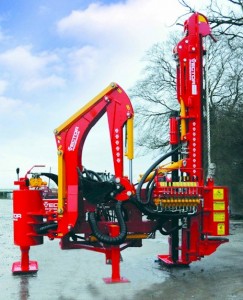 The ultimate post driver, this machine is a must-have for the serious contractor. A high output post driver, with great side and rear shift capacity, independent hydraulic jacks and terrific stability in virtually any terrain.
Copes with the most difficult tasks while easy to operate and maintain. It attaches to the three point linkage and fits all models of tractor.
The 400kg solid steel hammer will drive just about anything, anywhere and at any angle. Posts are driven quickly, cleanly and accurately and the hammer impact can be completely controlled, to deliver anything from a feather light tap to a full impact of 50,000kg.
The machine can operate in the most awkward terrain and difficult situations with ease.
In spite of its sophistication and many features it is can be operated by one person with ease.
Main Features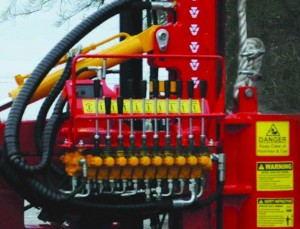 400kg solid steel hammer
Independent post cap system
600mm side shift travel
300mm rear shift travel
High degree of mast lift
Heavy duty top link with anti-creep valve
Multi-position top link anchor point – 6 positions available
Double beam side shift frame
Double beam rear shirt slides
Self-lubricating wear pads on all slides
Independent hydraulic jacks with anti-creep valves
Large floatation skid shoes
Bubble level for accurate placing
Integrated toolbox for handy storage
Optional Extras
500kg hammer
Rock Spike
This attachment enables you to drive posts in even the hardest ground.
Mini Excavator Attachment
Attaches a mini-excavator to the post driver, creating a two-in-one machine that makes post driving job a lot easier. Can be operated without leaving the cab.
Tow Hitch
A hitch can be provided on the post driver so that it can be transported by a tractor while also towing a trailer.
The video below gives a taste of what this driver can do and how easy it is to work with. You can watch more videos here.