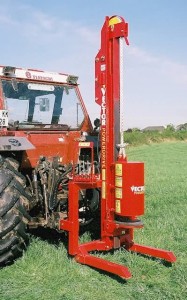 The ideal machine for farm fencing, especially on larger farms, this post driver has all the features of Model 1+ and many additional refinements.
There is a great deal of mast movement in 4 directions, which means the post can be pulled or pushed in any of four directions, allowing very precise control of the post being driven.
The Independent Post Cap allows for much greater hammer impact, even under extreme conditions, without any tendency for the cap to lift off the post.
This precise control combined with the 380KG hammer means this is a truly versatile machine capable of driving posts up to 3.3m in height and 375mm in diameter.
Main Features
Hydraulic side tilt
Hydraulic top link
3 bank high flow valve
Independent Post Cap system
Three point rope adjustment
Heavy duty post cap
High flow valve for hammer operation
Cranked leg stands eases coupling to tractor
The Model 2 post driver attaches to the three point linkage, fits all models of tractor and is also readily adaptable to log splitting.
Hydraulic operation, great mast movement and the Independent Post Cap make for a flexible machine on farms and stud farms with a heavy fencing requirement. It is a popular post drivers for hire companies, since it is simple to operate and can work in a wide range of situations. It's also easy to transport when mounted on a transport trolley, making delivery no problem.
Click images below for a larger view.