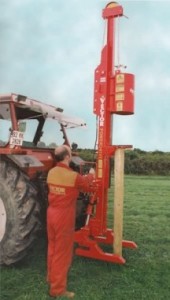 Greater tilting capability and a compact design combined with the ability to mount the post driver on a telescopic loader makes this machine perfect for the hillier farm or as an entry level contractors post driver.
It is a particularly compact post driver with all the features of Model 2:
Hydraulic side tilt
Hydraulic top link
3 bank high flow valve
Independent Post Cap system
Three point rope adjustment
Heavy duty post cap
High flow valve for hammer operation
Cranked leg stands eases coupling to tractor
plus the following refinements:
Designed to attach to hydraulic loaders
Greater left and right tilt because of a hinge point at the bottom of the mast.
More compact machine without any loss of features or power
5 position rope adjustment
Wax filled nylon pulley and rope sleeves for extended rope life
3 top link positions to choose from
This post-driver has no limitations when it comes to side tilt. It has almost 30 in both directions. The mast pivots on a 50mm king pin at the base of the machine to allow the operator to pull posts left and right with the side tilt. This would not be possible with other tilt designs.
The ability to attach to hydraulic loaders make it suitable for those fencing on more awkward terrain where the angles at which posts must be driven are often difficult