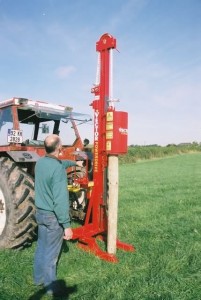 A further development of our Model 1 Post Driver, this is more robust and heavier farmer's post driver with a solid steel hammer. Ideal for the farmer who needs more flexibility and to drive larger posts or straining posts.
Main Features
All the features of Model 1, including:
One person operation
Safety chain
Hammer ram neatly incorporated into main mast for life long protection
plus
380kg solid steel hammer
Heavy duty post cap
High flow valve for hammer operation
Hammer height adjustment
Double pulley system
Mast tilt ram and top link
Cranked leg stands eases coupling to tractor
Hammer height adjustment allows the hammer to travel from ground level to 12′ height without rope adjustment and a single high bank flow valve allows for precise hammer operation. The post cap slides on a static beam for maximum hammer impact.
This is a high impact machine that will drive the heaviest of straining and gate posts with ease and can readily be operated by one person.
Click images below for a larger view