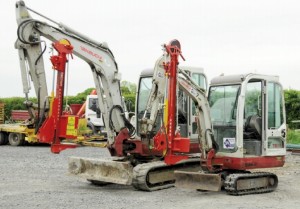 This post driver can be mounted on any make of excavator weighing from 1.5 tonnes up.
Main Features
200kg hammer for a 2.5 tonne excavator and above
100kg hammer for a 1.5 tonne up to 2.5 tonne excavator
400kg hammer with taller mast for 13 tonne excavator and above
Hammer weight can be increased for higher-tonnage machines
Transfers the weight of the mast onto the post while driving, making the hammer more effective by using weight transfer system
Easily operated by one person
Short mast makes it very easy to transport both digger and post driver on a trailer
No leg required to rest on the ground meaning easy to position held above ground and its use is not inhibited by hedges, banks or fencing like some other machines and is easy to use for repairs to existing fencing where a leg would make this difficult
This post driver is very easy to use in awkward situaltion and is a robust machine which will give years of service.
The images and video below will give you an idea of just how easy and convenient fencing jobs become when you combine this post driver with an excavator.